Your Guide to Santa Barbara Surf
Here, we share our local tips about Santa Barbara surf. We give you important information of when the surf breaks best, where to park and local knowledge of what kind of waves to prepare for.
Before we begin, go to any surf shop in Santa Barbara and get a free tide chart.
Check-out this short SB surf video. Don't let the guy cleaning his camera lense at the beginning disuade you from watching the clips of several Santa Barbara surf spots. Notice the wetsuits, shoreline and surroundings. Have fun and be safe......




Locals tell us the surf in Santa Barbara is normally best when the tide is changing from low to high. The best Santa Barbara surf beaches are rocky points where the incoming tide increases the swell's power, as well covering up exposed rocks.
Santa Barbara surf is generally limited to late fall, winter and early spring swells that have a strong westerly, or northwesterly direction. The reason? Santa Barbara faces south and is in the lee of, or blocked by Santa Cruz Island.
Here, we provide you with information on surf breaks where we have surfed. There are breaks we don't mention, to be sure. Our intention is to give you the best info you'll need to enjoy your surfing safari in Santa Barbara. Use good judgement and never paddle out in surf that is beyond your ability.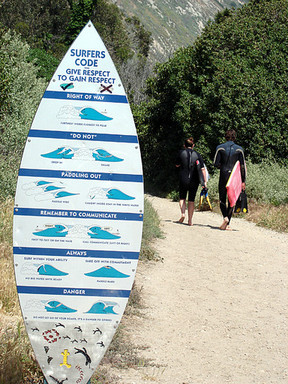 Beaches South of Santa Barbara between the Ventura County line and Montecito have little surf in late spring and summer. When the surf comes out of hibernation in the fall, the best surf break is Rincon Point.
Rincon breaks best on a west to northwest groundswell. Visible from the freeway, exit 101 t Bates Road. Traffic on Hwy 101 comes to a standstill when the surf is up at Rincon. One of the best waves in California, Rincon is also one of the most crowded. Park free in the lot to your left and follow the path about 200 yards to the cove. If you are a beginner, stay in the cove. Otherwise, walk up to the rivermouth and paddle out there. Be careful of submerged rocks, kelp and other surfers. In big croweded conditions, a helmet is recommended.
Loon Point (Serena) is located north of Santa Claus Lane. Park along Santa Claus Lane and recommend checking it with your binoculars first. The walk takes about fifteen minutes from where you park. Surf breaks over the reef in the middle of the cove. Takes a strong west swell, but have surfed it on an extreme south as well. Loon Point is surrounded by private land, so don't get caught at high tide, or you'll have to deal with the homeowners.



Beaches in Santa Barbara stretch from Fernald Point to the south and Hendry's Beach to the north.
Shark's Cove (Fernald Point) is a difficult Santa Barbara surf break to get to as it's surrounded by private property. Exit 101 at San Ysidro and drive towards the ocean. Park along the road, or in the small lot at the end of San Ysidro Rd. Walk south along Miramar Beach to the point. You can check Shark's from the 101, but rarely worth the walk.
Hammonds Reef is located off a rocky point just north of San Ysidro Rd. Old man Hammond's estate was leveled and condos built years ago. To get to Hammonds, follow the same driving directions to Shark's, above. A large west swell creates a powerful right breaking wave. Best at a medium tide going high.
Leadbetter Point is located just north of Santa Barbara Harbor. It's the most popular Santa Barbara surf break. Exit 101 at Castillo (southbound), or Bath (northbound). Follow directions to Santa Barbara Harbor. Suggest driving north on Shoreline Blvd. to check Leadbetter first. Park in the free lot at the south end of Shoreline Park. Leadbetter is a friendly open-road break. Share the waves with boogie-boarders. Generally a slow mushy wave favored by a mix of geginners and longboarders. These days, stand-up surfers can be seen paddling off the point. Amenities include bathrooms at Shoreline Park. Local tip: walk along the fence at Shoreline Park and check the surf north of Leadbetter. We've surfed fun waves that break the length of Shoreline Park to Thousand Steps.


Beaches north of Santa Barbara
stretch from Campus Point to the south all the way to Jalama Beach. These Santa Barbara surf breaks involve some walking to get to.
Campus Point is located on the UCSB campus. This Santa Barbara surf spot is often crowded like Rincon. Exit 101 at Hwy. 217 and drive towards UCSB. Once you pass the entrance station, turn left and there is a metered lot to your left. If you park anywhere else on campus, you must pay for a parking pass. Make sure to only use visitor parking. Parking lots are monitered 356 days a year 24/7. Walk down the steps from the parking lot, or access the beach by walking past the Marine Biotechnology Building. A big west swell makes for long right-breaking waves that can go for 100 yards. Careful for rocks, especially if you surf the upper point.
Coal Oil Point: A favorite Santa Barbara surf break among old-timers. This surf break harkens back to the days when kelp covered the ocean and one could paddle out at a rocky point break and see fish swimming below his/her board.
Exit 101 at Storke Road. Drive towards the ocean, pass the Home Depot on your right. Turn left on El Colegio Rd, then right on Camino Corto to ocean, right on Sabado Tarde. Drive about three blocks to the beach access and park along the street. Stairs lead to your left down to the beach, walk north to Coal Oil Point. Good surf in fall and winter. Careful of submerged rocks at the point. This point break had the name of Devereaux, a private mental health facility, which owned the buildings on the bluff for years. No amentities. Surf is best in winter. Lots of kelp. We prefer surfing the many peaks between the stairs and the point. Careful for submerged rocks on the point. Crowd is generally friendly UCSB students.
Naples: Our favorite Santa Barbara surf spot. Exit 101 at Winchester Canyon, turn left over freeway and follow directions to Sandpiper Golf Course. Follow frontage road and then left into public beach access parking lot at the Bacara Resort. A trail leads to the California beach called Haskell's. Amenities include bathrooms and showers. Walk north at low tide to Naples Point. A 30 minute walk north. Careful of the incoming tide. Most private property owners on the bluffs above Naples employ security guards and don't take kindly to trespassers if you get stuck. Awesome winter surf on a west swell. Long right-breaking waves peel off the point. Surf south of the point is called "seals" for the abundance of seals that haul-out beneath the cliffs. Naples is what surf in California used to be like. That is, a rocky point, heavy with kelp and uncrowded.
Hollister Ranch or "The Ranch" is the meca-meca of California surfing. For those who want to boat in, inflatables can be launched from Gaviota. Otherwise, at this point, one must know a "parcel owner" at the Hollister Ranch, or buy one for a minimum of $400,000.00 at the time of this printing. Great surf, year-around. Breaks over reefs at places like: lefts and rights, Drakes, razor blades and the main break, St. Augustines. Good luck and let us know if you bought a parcel.
Jalama Beach is located north of Point Conception. It's the Santa Barbara surf break the farthest north of Santa Barbara, about an hour and a half. Drive north of Gaviota State Beach a few miles, then turn north on Highway 1. A few mile shy of Lompoc, turn left on the road for Jalama County Beach. Drive 14 miles to the entrance station. The surf at Jalama breaks year-around, but we like it best in the summer. Water temperatures hover in the 50s and booties are a must. Dangerous and big at times. Amentities include camping, store and bathrooms. Walk north from the campground to Tarantulas, the main peak with several others along the way. Be careful surfing here anytime during the year. The surf can be huge. Many surfers have paddled out and found the surf bigger than expected.


Ventura County Beaches 30 minutes to the south offer a variety of breaks. Most importantly, Ventura County Beaches are exposed to west, north and south swells.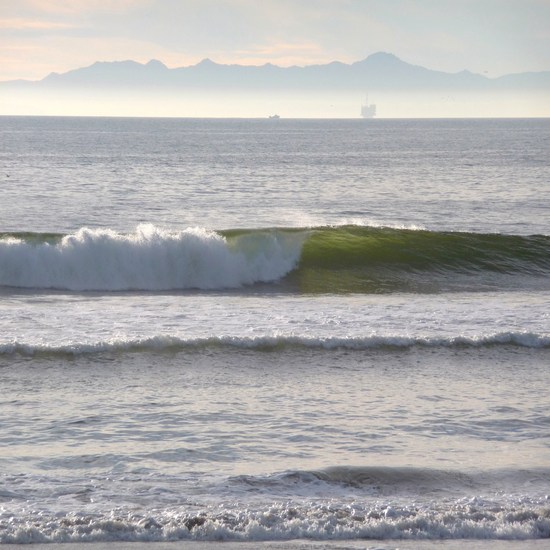 A couple of Santa Barbara Surfing Historical Spots to check-out:
First, Channel Islands Surf Boards is the home of Al Merrick, Tom Curren's shaper and surfboard maker. Merrick has been shaping championship boards since 1969. The shop on Anacapa Street, a few blocks from Sterns Wharf is a living museum of Santa Barbara surfing history. Channel Islands Surf Boards

For a look at the home of Sex Wax, stop by the Sex Wax Factory in Carpinteria. For directions and a brief history, check-out Sex Wax.


Go from Santa Barbara Surf to Santa Barbara Camping