Your Guide to Santa Barbara Hotels
Here, discover the short list of the best Santa Barbara Hotels. Santa Barbara is a Mediterranean-like city with tons of things to do and see. Nothing worse than searching for your Santa Barbara accomodations with a AAA book in your lap while driving around town searching for a vacancy. The Santa Barbara hotels we list below have been recommended by friends over the years. As always, we provide you with information on cost, amenities, driving directions, a website if it's available and local tips on how to enjoy your vacation. Hope to see you soon...
Hotels Near the Beach
Local Tip: Downtown Waterfront Shuttle runs the length of Cabrillo Blvd. from East Beach to the Harbor. It costs a quarter and will take you all the way up State Street.
The Franciscan Inn is our first pick for a moderately priced beach hotel. Santa Barbara hotels near the beach are numerous, but we believe The Franciscan Inn is one of the best. Winter rates dip below $100 with a AAA discount, summer add 25-50% more. The hotel is located a couple blocks from Stern's Wharf and the harbor. Amenities include a pool, spa, continental breakfast, afternoon tea and cookies. Kitchenettes with small refrigerators are available in some rooms. Weekly rates are available. Directions: Exit 101 on Castillo southbound, or on Bath if you're northbound. Follow Castillo to the beach, turn left on Mason, 1 block then left on Bath. The hotel is on your right.
More on this Santa Barbara hotel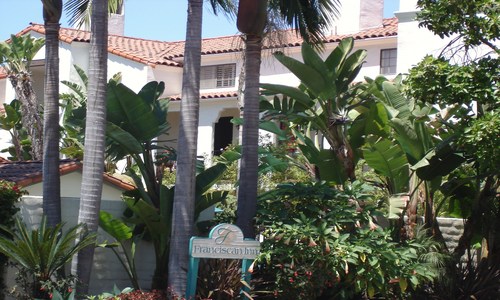 Mason Beach Inn is next door to the Franciscan. Offers similar amenities with pool, spa, in room refrigerators and continental breakfast. Of our Santa Barbara hotels, we believe it's moderately priced for its location to the beach and harbor. Seems to have more parking than the Franciscan. Perhaps this is the reason why the rooms are a bit more expensive. Follow driving directions to the Franciscan. More on the Mason Beach Hotel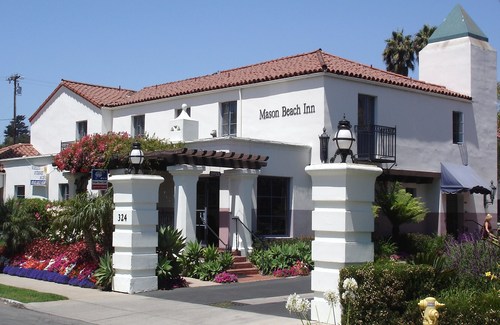 Great thing about Santa Barbara hotels at the beach is they compete heavily with each other. Whether it's afternoon tea, in-room internet service, or fresh strawberries and cream for breakfast, the beach hotels we recommend love to take good care of their guests so they will return again and again. Marina Beach Motel is no exception. They seem to have bragging rights to the many guests who "winter over" for a month or two each year. Price is moderate, even a bit lower than Franciscan and Mason Beach even though Marina Beach Motel is closer to the beach by a block. Amenities include continental breakfast and you can park in front of your room, thus it's a "motel." Wireless internet service is available. More on Marina Beach Hotel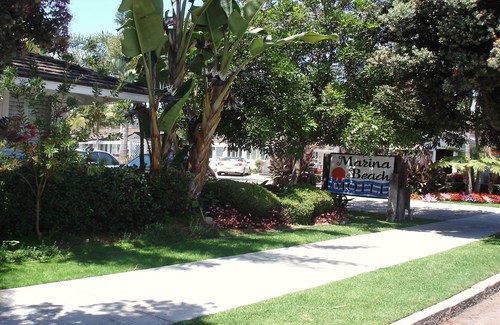 Fess Parker Doubletree Hotel is Santa Barbara's queen of the beach. Fess Parker's resort is on Cabrillo Blvd. across the street from the beach. Amenities include: Pool/Whirlpool, exercise room, spa with total body treatments, gift shop, hair salon, tennis courts, basketball court, valet parking, airport shuttle, room service, laundry and restaurants. The hotel is expensive, averaging $400/night. Directions: Exit 101 at Garden Street, drive towards the ocean, turn left on Cabrillo, the hotel is on your left. More on the Fess Parker Doubletree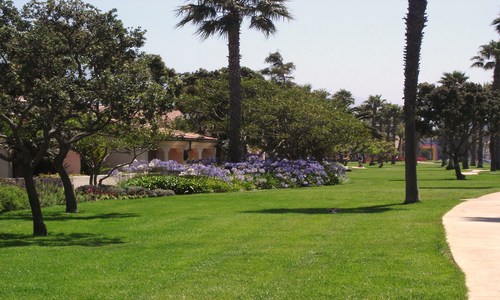 Downtown Hotels
Book your Santa Barbara accomodations downtown and you can wander the State Street shops and restaurants without worrying about driving your car.
The Canary is nestled in the midst of downtown Santa Barbara located at the corner of Carrillo and Chapala Streets. It's 97 guestrooms are expensive at more than $300/night. Onsite restaurant and spa. The nicest feature of the hotel is its rooftop perch where one can enjoy a glass of wine with a 360 degree view of the city. More on the Canary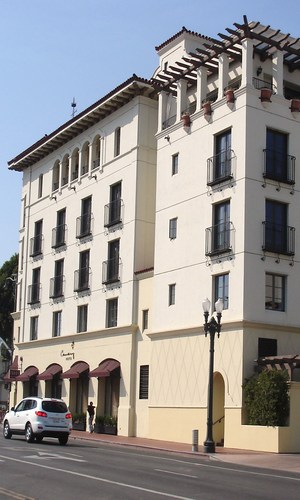 Holiday Inn Express, Hotel Viginia is a clean, moderately priced downtown hotel. Best summer rates are $176 midweek and $244 on weekends. Located at 17 W. Haley St., Hotel Viginia is a couple of blocks off lower State St. Exit 101 at Castillo St. to Haley, drive towards the mountains. More on Hotel Virginia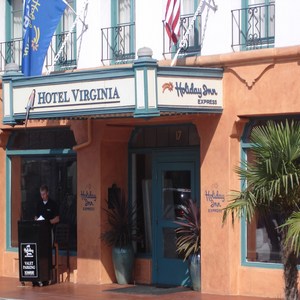 Upper State Street Hotels
Exit 101 at La Cumbre, turn right on State St. and you've arrived at a couple of nice hotels a bit off the beaten path. Any advantage of booking a hotel on upper State? You're a bit closer to Hwy 154 (San Marcos Pass) should you decide to go wine tasting in the Santa Ynez Valley. You're ten minutes from downtown and fifteen minutes from the beach and Stern's Wharf. Room prices tend to be a bit cheaper.
Sandman Inn is a good choice if you wish to save money on your hotel. Located at 3714 State Street, Sandman Inn has a nice pool and is quiet. Midweek prices range from $99 to $187 on weekends. Shopping and restaurants nearby at La Cumbre Plaza.

Pepper Tree Inn is one of the nicer Santa Barbara hotels on upper State Street. Located at 3850 State Street across from La Cumbre Plaza, Pepper Tree has an on-site restaurant and nicely landscaped with a pool. Part of the Best Western chain of hotels, Pepper Tree Inn's prices range from $179 to $234.

More on Pepper Tree Inn



Return from Santa Barbara Hotels to Santa Barbara Day Trip