Our Guide to Santa Barbara Shopping
Here, we will guide you to the best Santa Barbara Shopping areas. Experience the Paseo, or walking pathways through unique shopping plazas. Window shopping is an art alive in Santa Barbara. It's been said the Santa Barbara shopping experience is similar to shopping in Greenwich Village in New York City. Another compared it to shopping in Italy. Grab a cup of coffee and come along......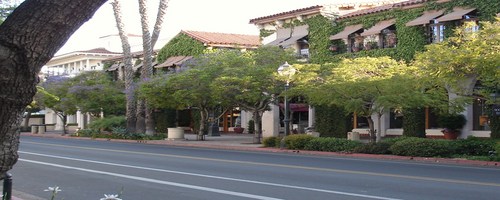 Local Tip: Tired of walking? Take one of Santa Barbara's little electric buses. Cost is only a quarter and they stop on either side of State Street running all the way to Stern's Wharf and along the waterfront.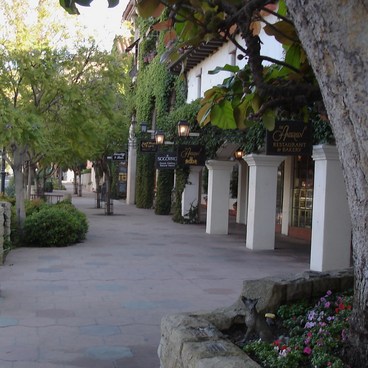 State Street: Downtown Santa Barbara's main shopping corridor begins at about Micheltorena Street and runs southwest to Stern's Wharf. State Street has everything from Boutique clothing and jewelry shops to art galleries, gift shops, well-known specialty retailers and major chain stores. Directions: exit 101 at Carrillo and head towards the mountains. Turn left on Chapala and right on Figueroa Street. Park in the city lot at Figueroa and Chapala, or continue past State Street and turn left into the city lot across the street from the Courthouse (text link). Remember, the first 75 minutes in the city parking lots are free.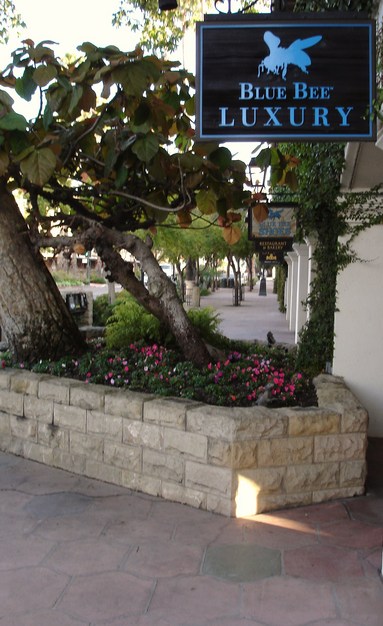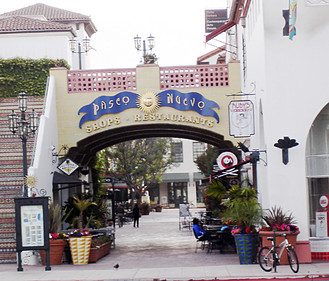 Paseo Nuevo is a charming paseo with brick walkways lined with flora, fountains and ornate archways. Directions: for this Santa Barbara shopping experience exit 101 at Carrillo and proceed towards the mountains, turning right on Chapala Street. Three blocks on your left and turn into the underground parking lot. First 75 minutes are free. The Paseo has anchor stores in Macy's and Nordstroms. We love to drop by See's Candies for a free sample. Many specialty shops, but the gals like Gap and Abercrombie and Fitch the best. Our favorite place to have a bite to eat in the paseo is Ruby's Diner. Also, on the State Street side of the paseo is Pascuccis, one of Santa Barbara's best Italian Restaurants.

La Arcada is a favorite paseo. Stroll beneath ivy covered walkways and have your photo taken with the bronze statue of Ben Franklin. Directions: located at 1114 State Street. Take the Carrillo St. exit from 101, drive towards the mountains, turn left on Chapala, then right on Figueroa St. Cross State Street and turn left into city parking garage. Enter La Arcada as you walk out of the parking garage next to the Santa Barbara Public Library. Barcliff and Bair a favorite place to eat. Local tip: come to La Arcada before Christmas. Check our special events and festivals webpage in earlier December for exact dates. Enjoy carolers, entertainment, tasty treats and Santa Claus. A local's favorite traditon.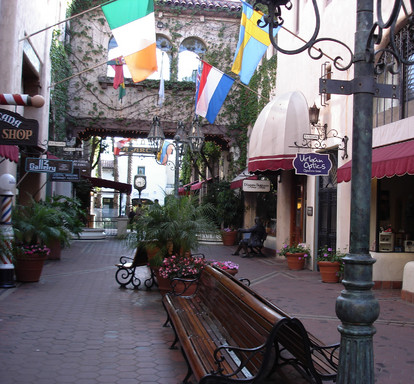 Farmer's Market is a local Santa Barbara shopping tradition bringing together a colorful palete of central coast agriculture. The main Farmers Market meets on Tuesday's 4-7pm in the summer and 3-6:30 pm in the winer months. Directions: Exit Carrillo, drive towards the mountains and turn right on State Street. The street is closed to vehicles in the 500 and 600 blocks for the market.
Sundays in the Camino Real Marketplace in Goleta at Storke and Hollister from 10-2pm and Thursdays from 3-6pm.
Wednesdays in La Cumbre Plaza (see below for directions) from 2-6pm summer and 1-5 pm in winter.
Wednesdays in Solvang at Copenhagen Drive and 1st Streets from 2:30-6:30pm.
Thursdays in Carpinteria on Linden Ave. from 4-6pm summers and 3-6pm in winter. Exit 101 at Linden Ave. and drive towards the ocean.
Fridays in Montecito on Coast Village road from 8-11:15pm. Exit 101 at Coast Village Road.
La Cumbre Plaza Santa Barbara shopping wouldn't be complete without a typical Southern California shopping mall like La Cumbre. It's located off the 101 at La Cumbre Rd. and upper State Streets. Sears and Macy's are the anchor stores. Ann Taylor, J. Crew and K-B Toys are favorites. We like having Mexican food at Baja Fresh.
Click here if you want to

return from Santa Barbara shopping to Santa Barbara Day trip home