Your 2008 Guide to Santa Barbara Restaurants
Santa Barbara Restaurants are some of the best in California because of the competition. That's right. Chefs and "foodies" of all kinds fall in love with Santa Barbara and before you know it, they've opened a new restaurant in town. The competition is fierce and most of them know how to prepare a great meal without busting your bank account. The restaurants we guide you to are fair-priced, tasty and have excellent service. We have kids, so for starters, establishments we list will accomodate children and be considered casual dining. I know, there's nothing worse than wild kids, or an obnoxious drunk sitting too close at the next table, so atmosphere is key for us as well. We love Santa Barbara eateries that are conducive to a good conversation, where we doesn't have to raise our voices (too much) to be heard across the table. As always, we'll give you good directions on how to find each restaurant and how much it costs. Now in no particular order, here are our favorites...





Santa Barbara Restaurants
Shoreline Cafe: Have you been to the coast of Greece or Spain, how about Mexico? In the tradition of the perfect Mediterranean fishing village, you must dine on the beach when sampling the local wine and food. Imagine fresh tacos and cold cerveza with lime. Shoreline Cafe is just that. Whether you sit inside where every table has an ocean view, or outside on the beach where you can sink your feet into the warm sand, you must try Shoreline Cafe, our favorite of Santa Barbara restaurants at the beach and harbor. Open at 10am, Monday-Friday, 8:30am Fri-Sun, Shoreline serves breakfast, lunch and dinner until 9 pm (weather permitting). Prices are moderate. For example, the wonderful Ahi burito wrap is just $11.95 with a salad. Weekday specials include $2 off drinks from 4-6pm as well as bargins on appetizers. Service is wonderful. And best of all, the atmosphere is amazingly mellow and spacious. It's common for beach goers to leave their umbrellas and beach gear a few yards away and put their name in to be seated at one of the tables on the sand. How fun! Directions: Southbound, exit 101 at Castillo, or Bath St. if you're northbound. Drive towards the ocean on Castillo for a couple of blocks, turning right on Shoreline. Take a left at the second light, Loma Alta and you've arrived. For reservations, call (805) 568-0064.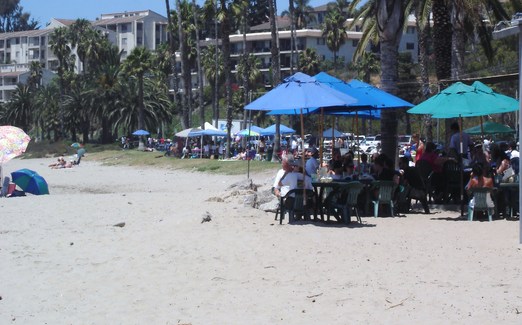 Brophy's: The best of Santa Barbara restaurants with a harbor view. Highly recommended and a favorite with locals. Directions: Exit northbound 101 at Castillo, or Bath St. if you're southbound. Follow Castillo a few blocks to the harbor, right turn on Shoreline and then first left on Harbor Way. Free parking for 90 minutes, or pay to park in the city lot. Atmosphere tends to be noisy and a bit cramped, but friendly. It's fine for kids. We usually sit on the outside deck so we can look out on the harbor. Famous for its moderately priced seafood, daily specials and excellent shellfish bar.Hours: 11 am- 10 pm (until 11 pm on Sat and Sun). 805-966-4418.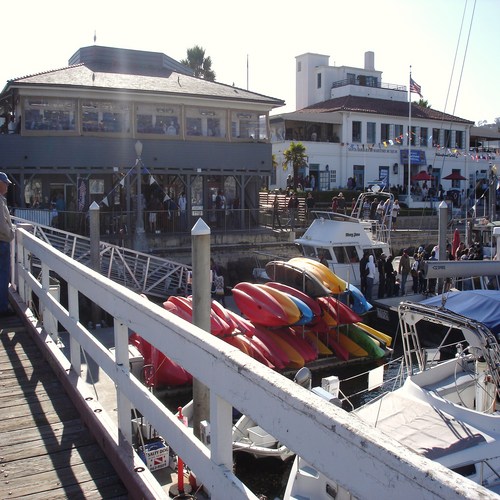 Palace Grill: Santa Barbara restaurants don't get much better than this. The Palace is a downtown eatery with a never-ending line of folks waiting on the sidewalk to get in, so make a reservation. Not a terrible thing to wait, though, because the restaurant provides free entertainment while you mingle. Directions: Driving down State Street (towards the ocean), turn left on when you see Joe's. The Palace Grill is on your right at 8 E. Cota. Phone: (805) 963-5000. New Orleans comes to Santa Barbara. Atmosphere can be noisy, but the excellent food and service make up for it. Famous for their Cajun Martinis served in a mason jars, over ice, with cherry peppers. Jambalaya, creole crawfish and Louisiana style cooking. A great place to order several dishes and share. Dinners and appetizers go from $10-$30. Louis Armstrong music strikes up every night while waiters and waitresses toast each table as all sing along to "It's a Wonderful World." Open daily for lunch until 3 pm, then dinner from 5:30 pm to 9 pm, Fri. and Sat until 11 pm. More on the Palace


---
Hold the Bus! What if You Need Snacks? Where do You Go in Santa Barbara?


Check-out our listings of where to buy Organic Snacks
---


Pascucci: Downtown on 729 State Street on the same block as El Paseo. Our favorite Italian Restaurant. Food is wonderful and the prices are right. Ample portions, don't miss ordering an appetizer or two like the marsala mushrooms or the yummy pesto shrimp. Entrees range in price from $8-$14. Local Tip: After lunch or dinner, stroll El Paseo, then make sure to have coffee and dessert at Pierre LaFond Bistro, 9 am-9pm, (805) 962-1455, an amazing bakery and bistro located a couple of blocks south at 516 State St! More on this Santa Barbara Restaurant

Playa Azul: a downtown Mexican restaurant, popular with Santa Barbara families on their special occasions. Beautiful setting, large portions, good service and moderate prices in the $8-$20 range. Directions: located at 914 Santa Barbara St. across the street from the Presidio. Phone: (805) 966-2860. Follow our directions to the Presidio.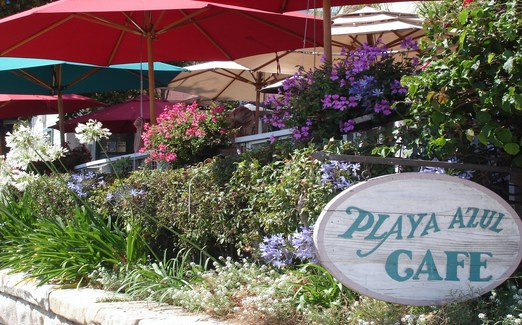 Soujourner Cafe is Santa Barbara's original coffee house hangout. Located at the corner of Santa Barbara and Canon Perdido Streets across from the Presidio, the Sojourner is a great place to have a light lunch or dinner. Open from 11am - 11pm Monday thru Saturday, and 11am - 10pm on Sunday, this Santa Barbara restaurant is famous for it's organic foods and veggie menu items. More on Sojourner

Our Daily Bread is just around the corner from Sojourner at 831 Santa Barbara St. A bakery and coffee shop, Daily Bread is a great place to have a scone and coffee while you read the morning paper.
Santa Barbara Chicken Ranch is by far our favorite Mexican take-out. A family run business located at 2618 De La Vina Street in Santa Barbara,(805) 569 - 1872. My favorite is the chicken and tri-tip burrito. Local Tip: Look in the phone book for their coupons. Great Prices and wonderful food! Santa Barbara Restaurants

The Habit is the best burger joint in Santa Barbara. Directions: exit 101 at 216 S. Milpas (drive towards the ocean), Habit is located a couple blocks from the beach. Another location at 628 State Street, as well as a store in Goleta. We have a hard time choosing, so here are the top three: Charburger, Grilled Albacore, or the Chicken Club. All sandwiches are priced between $6 and $8. Kids meals are a bargain. (805) 962-7472. More on the Habit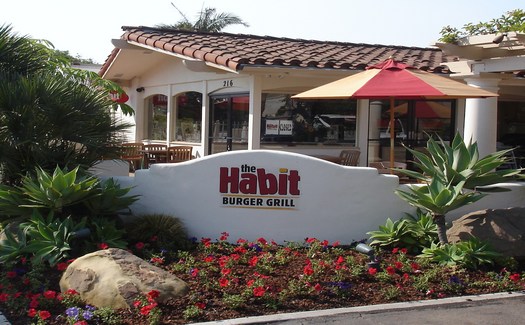 Ruby's Diner is located in the Paseo Neuevo downtown. Directions: park in the underground parking lot at Paseo Nuevo. The restaurant is at the intersection of Chapala and De la Guerra Streets. Of all Santa Barbara Restaurants for kids, this is the one. Decorated in a 50s diner style, Ruby's serves large portions of American food: hamburgers, fries, big salads like their Cobb, seafood platters, tacos, meatloaf and even low-carb and low calorie meals for folks who are dieting. Great kids menu, crayons included. Kids eat free on Friday evenings. All dinners range from $6 to $10. It's hard to choose, but our favorite meal at Ruby's is breakfast. Great selection at a reasonable price. Service is provided by waiters and waitresses dressed 50s style-car hop status. Local tips: the milkshakes are awesome! They take Access Cards for a sweet discount. Rubys

Cajun Kitchen usually has a line forming outside the restaurant by about 8 am on weekends. Maybe its the New Orleans style breakfast, My favorite is the blackened catfish and Louisiana style sausage. Prices range from $6 to $8 bucks per entree. Cajun Kitchen is one of the most local of locals of all Santa Barbara Restaurants. Directions: located in Santa Barbara at De la Vina and Mission Streets 805-687-2062, as well downtown, 901 Chapala at the intersection of Chapala and Canon Perdido. Cajun Kitchen has restaurants in Goleta and Carpinteria as well. Opens at 6:30 am for breakfast, closes at 2:30 pm after lunch.

Los Gallos is a hidden gem. Exit 101 at Mission St. The restaurant is located at the corner of De la Vina and Mission Streets. This little Mexican eatery has been discovered by SB locals. (805) 563-4883. Likely because the corner of Mission and De la Vina is a Santa Barbara Restaurant hot spot. Check these out too: Derf's, Cajun Kitchen, Taffy's Pizza, McConnell's Ice Cream and The Daily Grind. One last Local Tip: kids eat free at Los Gallos on Sundays and the Daily Grind's fresh muffins go on sale for half-price after 4 pm.


Woody's Bodacious Barbeque our favorite barbeque restaurant in Santa Barbara. You have to drive a little, but it's worth it. Exit 101 at Patterson, drive towards the ocean, turn left on Hollister Ave. Look for Magnolia shopping center on your left where you'll find Woody's. My favorite is the Bullwacker, a tri-tip sandwich with bacon and jack cheese. Great kids menu. Atmosphere is sports channels on big screen TVs and video games for the kids. (805)967-3775. More on Woody's


Santa Barbara Oldest Most Classic Restaurants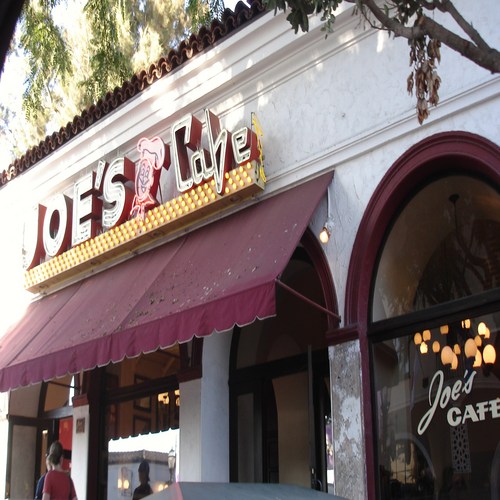 Santa Barbara nostalgia. Looks the same as when your parents went there. These restaurants have been serving up great food for over thirty years. In the case of Joe's, for eighty years.
Joe's of Santa Barbara has been serving stiff drinks and large entrees since 1928. Some say the drinks are at least doubles, a few say they're triples. French Dips, Seafood, Pasta, Salads, Sandwiches, Soups, Prime Rib & Steaks. Famous for their bread w/ salsa. Located at the corner of State and Cota, Joe's is open from 7:30 am to 11 pm. (805)966-4638.
Harry's on upper State has been serving up steaks for a thirty years. Leather boothes and lots of photos on the walls. Just north of Las Positas and State at: 3313-B State Street. 805-687-2800.
Esau's has been a fixture in SB since the 1930s. Classic surf chow. For breakfast, try the best darn pancakes in town. For dinner, enjoy the Baja halibut tacos, so big you won't be able to finish them. Also recommend a side order of fried green tomatoes. Cesar salad with seared ahi is incredible. Enjoy the surf art and videos while you wait for your food. Esau's is 3 months into its new diggs at 721 Chapala Street. Park across the street in the underground at Paseo Nuevo. 805-965-4416
More on Esau's