Your Guide to Santa Barbara Campgrounds
Santa Barbara Campgrounds are open year-round. Our top three SB campgrounds are on the beach, so you can drift to sleep to the sound of breaking waves. Whether you're looking for an RV campground, or prefer to pitch a tent, Santa Barbara campgrounds are the place for you.
The Campgrounds listed below, generally run about $30/night. Not bad compared to a $200 hotel room, more if it's the middle of summer.
Campers should bring beach gear, and as always, we recommend bringing bikes to the Santa Barbara campgrounds because of their wonderful pedaling opportunities. Local Tip: We love the bike ride between El Capitan State Beach and Refugio campground. Approximately 2.5 miles each way along a black-top trail. For this Santa Barbara campgrounds activity and more, read on...




Of all the Santa Barbara campgrounds, we like Carpinteria State Beach Campground the most. RV Camping is allowed with full hook-ups for motorhomes, 5th wheels and trailers. For tent campers, there are clean bathrooms with coin operated hot showers. If you plan on camping on weekends, or during the summer, reservations are necessary. See the reservation info below. Carpinteria is approximately 12 miles south of Santa Barbara. In Carpinteria, exit 101 at Linden and follow the California State Park signs a short way through town. The campground is located on the beach within walking distance of restaurants and shops. An Albertson's grocery store is located on Linden Ave. Local tip: Make your reservation for summer camping six months in advance on the 1st day of the month when Reserve America, the booking agent, opens for business. Carpinteria State Beach is one of the most popular campgrounds in the California State Park System. Cost: $29-$35/night.
More on this Campground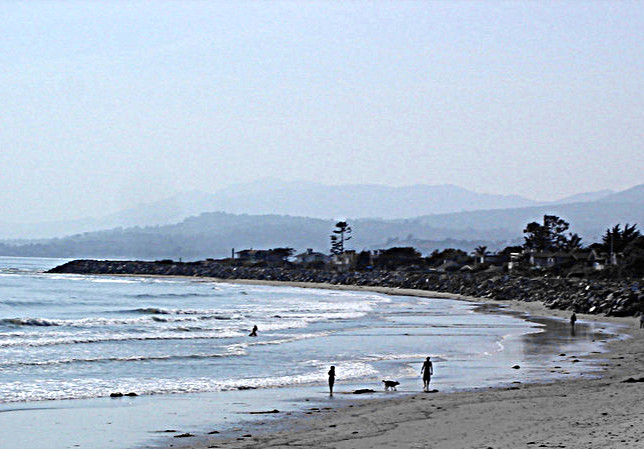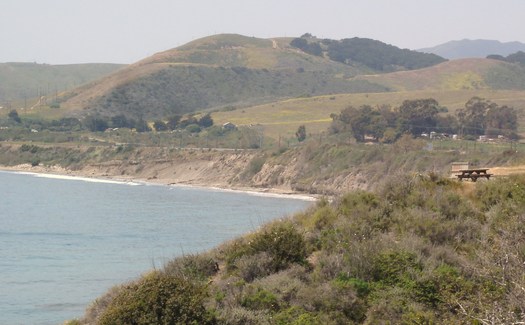 El Capitan State Beach is about twenty minutes north of Santa Barbara. A large campground, but like Carpinteria, one must make reservations in advance. Located on the Gaviota Coast, this campground is spread out along the bluffs above the ocean. Of the Santa Barbara campgrounds along the coast, this is the most wooded with sycamore and California live oak trees. Has a general store for food and supplies, otherwise it's twenty minutes south to Goleta. Cost: $20-$25/night, no RV hook-ups. More on this campground






Refugio State Beach Campground is three miles north of El Capitan State Beach Campground. Of the four coastal Santa Barbarbara campgrounds Refugio is famous for its tempermental surf break as well as its scuba diving. Nice treed sites, but no hook-ups for RVs. Cost is $20-$25/nt. A general store sells food and supplies. More on this campground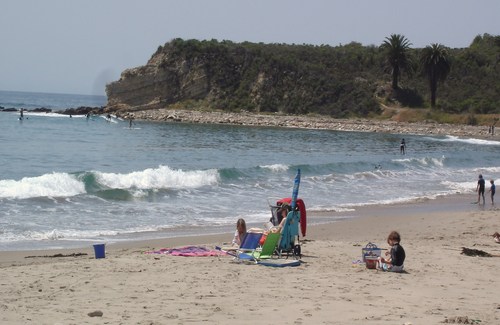 Gaviota State Beach Campground is located north of Refugio and about 30 minutes from Santa Barbara. Fisherman tend to favor this campground. Gaviota Pier has produced its share halibut. The pier used to have an operable boat launch, but last check it was broken. Local tips: fishing from a pier in California is legal without a fishing license. The most pristine surf in California is north of Gaviota at Hollister Ranch. Surfing "The Ranch" was popularized in Kem Nunn's classic surf noir novel, Tapping the Source. No RV hook-ups, Cost is $20-$25/night.
Santa Barbara Campgrounds Reservations for: Carpinteria, El Cap, Refugio and Gaviota.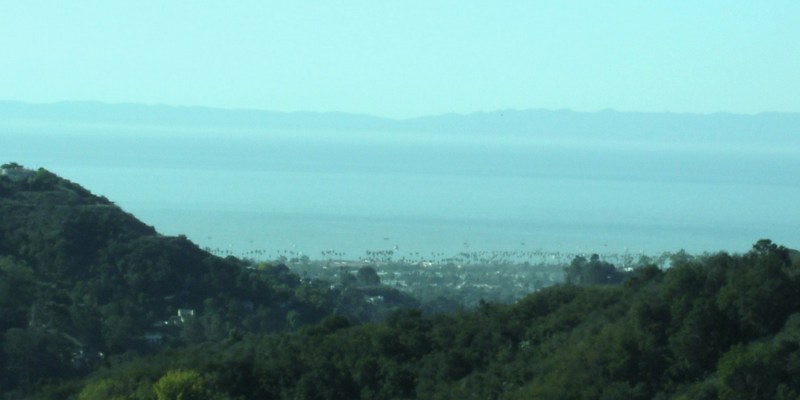 Los Padres National Forest offers a number of campgrounds along Paradise Road in the Santa Barbara Mountain backcountry. Because of 2007 and 2008 fires, some of the campgrounds might be closed. Awesome hiking and mountain bike riding off Paradise Road and above on the mountain crest along East Camino Cielo. More on Los Padres National Forest Campgrounds



---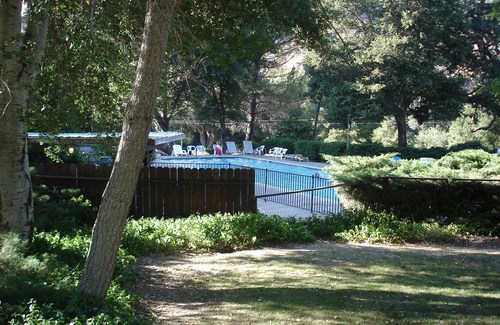 Our 2nd Tier campgrounds are described below. They qualify as Santa Barbara campgrounds, but are either too far away from Santa Barbara, or tend to be a bit expensive as compared to the others.
Santa Barbara campgrounds favorite tier 2 campground is Rancho Oso Guest Ranch. Rancho Oso is located on Paradise Road off Hwy 154 (San Marcos Pass). It is approximately 30 minutes from Santa Barbara. It's a bit far from Santa Barbara, but has activities such as horseback riding, wine tasting, swimming pool and a country store. Oso serves dinner on Friday and Saturday nights, lunch during the weekends and has special activities for children most weekends. Rancho Oso is a private campground, part of the Thousand Trails resort system. Full hook-up RV sites as well as tent camping can be arranged by contacting the membership office, otherwise one can stay in the cabins available year-round. Local tip: stay at Rancho Oso if you intend to go wine tasting in the Santa Ynez/Solvang area, or if you're intending to fish at Lake Cachuma. More on this campground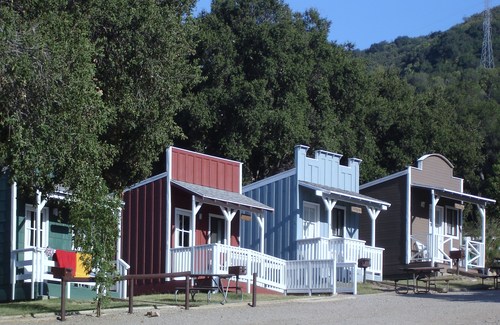 If you're looking for Santa Barbara campgrounds with a lake, go to Lake Cachuma County Park, approximately 45 minutes from Santa Barbara via Hwy 154 (San Marcos Pass). Lake Cachuma's campgrounds are first-come, first-serve and cost $20-$30/night. Full RV hook-ups are available. Boat rentals, nature programs and a swimming pool are part of the Cachuma experience. Close by are Santa Ynez Valley wineries and the Danish village of Solvang.

South of Santa Barbara, you'll find the following beach campgrounds along Hwy 101: Rincon Parkway, Hobson, and Faria County Parks. Approximately twenty-five minutes from Santa Barbara. Once you are north of Ventura on 101, exit to the coast route which takes you past the campgrounds. Full RV hook-ups at Hobson and Faria. Rincon Parkway is dry camping, but you parallel park your rig right next to the ocean. Local tip: good surfing between Ventura and Rincon Point. Cost is $25-$40/night. More on Ventura beach campgrounds.



El Capitan Canyon is a private campground 20 miles north of Santa Barbara on Highway 101. Considered "luxury camping," El Capitan Canyon offers small cabins and safari tents for approximately $145-$300/night. They have a series of concerts that run throughout the summer More on this campground