Our Top Ten Santa Barbara Attractions
We rounded up the top Santa Barbara attractions. How? Simply by observing the many tourist's smiling faces lined up at the attraction each weekend. As always, we give you directions, approximate duration of the activity, how much it costs and any local tips we might have to help you enjoy the activity even more.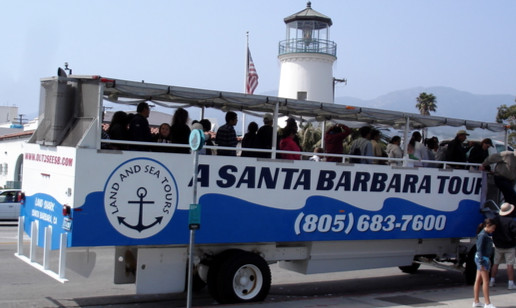 First in our list of Santa Barbara attractions is Land and Sea Tours. Formerly known as The Land Shark. I remember a few years back, reading in the newspaper that the City Council disapproved of the Land Shark. It's good the old Shark's owner wasn't discouraged, because today he has one of the most popular activities in SB.
Starting at noon most weekends, and 10 am during the summer, the Land Shark takes you on a guided city tour before plunging into the Pacific to see the harbor. Kids are $10 and adults $20 for the 90 minute ride. Bring a camera and meet your amphibious vehicle just east of Stern's Wharf on Cabrillo Boulevard. Park free anywhere along Cabrillo Blvd.
More Info on this Santa Barbara Attraction
Double Dolphin is an incredibly adventurous Santa Barbara attraction. Casting off from the dock and setting sail is a Santa Barbara tradition. Schooners and steamers loaded with the bountiful harvest of the Central Coast have sailed these waters for centuries. The Double Dolphin, a fifty foot catamaran, conducts whale watching, coastal cruises, sunset cruises, as well as Sunday brunch and dinner cruises. Give yourself 3 hours to half a day, depending on the cruise.
Local Tip: bring a jacket and wear boat shoes if you have them. See the company website for more info on departures.
More Info on this Attraction
Ty Warner Sea Center is managed by the folks at the Natural History Museum, listed above. A top-knotch Santa Barbara attraction, with high quality exhibits much like the Natural History Museum. Many hands-on encounters with the briny Pacific Ocean. Touch tanks for the kids and marine biology experiments are guided by personable "Sea Crew" volunteers, mostly made-up of Santa Barbara's best young people. Prices are identical to the Natural History Museum, above. Open 10 am to 5 pm daily. Closed: Thanksgiving, Christmas Eve (3:00 pm), Christmas Day, New Years Day
Park free along Cabrillo Blvd. near Stern's Wharf, located at the end of State Street where it meets the ocean. Give yourself an hour for this activity. Local Tip: Santa Barbara's Ty Warner, of Beanie Baby fame, funded the Sea Center. If you're inclined towards elegance, have Sunday Brunch at the Biltmore, or the San Ysidro Ranch, both owned by Mr. Warner. More on this Attraction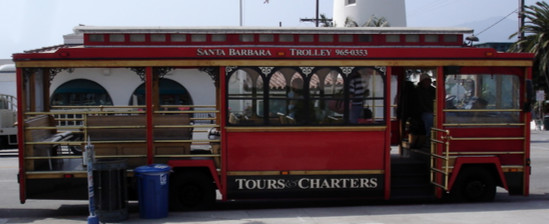 Santa Barbara Trolley Company is famous in Santa Barbara for its wood-trimmed red buses that resemble the trolley cars of San Francisco. $21 for adults and $8 bucks for kids gets you a day-long pass on a narrated loop around town to sixteen different spots including Stern's Wharf, the Mission and the Courthouse. There are eight drop-off spots where you can get off the bus and be picked-up again between 9 am and 4:45 pm. Meet the Trolley at Stern's Wharf. Factoring in a couple of stops along the tour, give yourself three to four hours for this Santa Barbara attraction.
More on this Attraction



Segway of Santa Barbara is a cool way to cruise the city!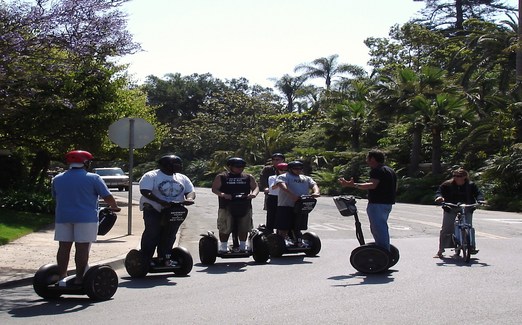 A family-run business that leads four different guided tours of Santa Barbara's must see locations. Tours range in price from $45 to $99. Directions: Exit 101 at Castillo. Drive towards the ocean. Turn left on Cabrillo Blvd. until you see Stern's Wharf on your right. Turn left on State Street to E. Mason, where you can meet your tour director. Give yourself between 1.5 and 3.5 hours for this Santa Barbara attraction. More Info on this Attraction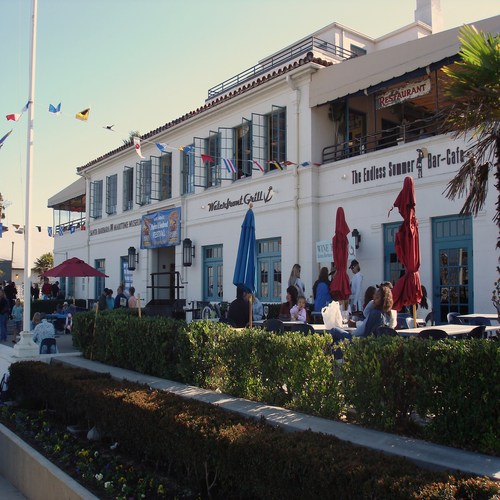 The Santa Barbara Maritime Museum is located in Santa Barbara Harbor above the Endless Summer Bar and Cafe. Go into the restaurant and take the elevator up to the museum. Open every day (except Wednesdays and major holidays) from 10am-5pm (Memorial Day to Labor Day, until 6 pm).
Local Tip: park free in the harbor parking lot. Turn left off Shoreline Blvd. onto Harbor Way. The first parking lot to the left, or right, are both free for the first 90 minutes. If you combine this activity with seeing the harbor, you'll need to park in the adjacent pay lot. We particularly like the museum for exhibits you won't see anywhere else but in SB. Santa Barbara is a city steeped in the traditions of sailing, surfing and the sea. It's home to the likes of former professional surfers Tommy Curren and Sean Thompson. Check the museum's website for book signings, tall ship visits, diving demonstrations and special sea-related activities for the whole family.
Ask about the Museum's Family FREE day, as well as the Kids Night Out program. (805) 962-8404.
Another Local Tip: Santa Barbara City College has a professional hard-hat diving program. Check-out their exhibit at the museum. Give yourself at least an hour to tour the museum. Admission Prices: Adults...$7.00 Military Active Duty...$4 Military Active Duty in Uniform...Free Seniors..............$4.00 Students.............$4.00 Kids.................$4.00 Littlest Kids........$2.00 More on this Attraction




The Presidio at Santa Barbara located at 123 E. Canon Perdido St. across the street from the downtown Post Office. Directions: Exit 101 at Carrillo, drive towards mountains, turn right on Chapala, then left on Canon Perdido.
The Presidio is on your left. Cost is $3.00 for Adults/Students/Seniors and FREE for children under 16. Open daily: 10:00 am to 4:30 pm. El Presidio and Casa de la Guerra Historic House Museum both come alive during La Fiesta in August as it's at the heart of Santa Barbara history along with the Mission. On street parking around The Presidio. Give yourself an hour to tour its exhibits.
Local Tip: three unique SB eateries nearby. Have a bite to eat at Playa Azul, Sojourner Cafe, or Our Daily Bread, all within a block of the Presidio.
More on Santa Barbara Restaurants More on this Attraction






Chase Palm Park restored antique Carousel is located along Cabrillo Bvd. at Garden St. Exit 101 at Garden and drive towards the ocean. Park anywhere along Cabrillo Blvd., or pay to park in the lot at Garden St.
Chase Palm Park is a favorite local spot with a shipwreck themed play structure, summer concerts and beautifully landscaped walking paths. The antique carousel is $1.50 per ride for adults and kids. Give yourself an hour for play structure and carousel ride.




Condor Express is Santa Barbara's connection to the open ocean and the Santa Barbara Channel. Directions: Turn left at Harbor Way off Cabrillo Blvd. and park in the Santa Barbara Harbor parking lot. For a couple of our Santa Barbara attractions, you'll need your sea legs and this is one of them. Give yourself the better part of a day for one of several boat trips offered by Condor Express. Whale watching is a year-round activity on the Santa Barbara Channel. Look for humpback, blue, gray and even killer whales. Dolphins swimming along side the boat are a given for almost any trip. Prices range from $48 to $90 for adults and $28 to $50 for kids, depending on the season and length of the trip.
Condor Express also does kayak trips to Painted Cave on Santa Cruz Island. If you're looking for a boat to take you onto the island, you need to contact Island Packers, the authorized concessionaire to the Channel Islands National Park, (805) 642-1393. The cruise across Santa Barbara Channel to Santa Cruz Island has been a major Santa Barbara attraction since the early 1900s. Local Tip: if you are predisposed to seasickness, stay on deck near the bow with your eyes fixed on the island, or some fixed object on the horizon. Then breathe, deeply... More on this Attraction






Santa Barbara Museum of Art is located at the corner of Anapamu and State Streets downtown. Open Tuesday - Sunday 11 am to 5 pm. Park adjacent to the museum at the parking lot across the street on Anapamu, or at the Santa Barbara Public Library lot directly behind the museum. Santa Barbara is the art capital of the central coast. Of our Santa Barbara attractions, this is the one to kick-off your art experience in SB. Local Tip: for a taste of local art, check-out the art walk along Cabrillo Blvd. every Sunday. Also, on the third Thursday evening in May thru September, enjoy martinis, music and unique art interpretation. Admission to the museum: Members free Non-members: Adults $9 Seniors (age 65+) $6 Students with ID $6 Ages 6-17 $6 Under 6 free Admission free every Sunday
More on this Attraction
The Santa Barbara Tourist Information Kiosk
is located at the corner of Cabrillo Blvd. and Garden Streets. Find more ideas on different Santa Barbara attractions. Or, if you wish to pick-up brochures on activities, hotels, or Santa Barbara restaurants, this is the place. Click here if you would like to
return from Santa Barbara Attractions to Santa Barbara Day Trip