Santa Barbara Bike Riding Guide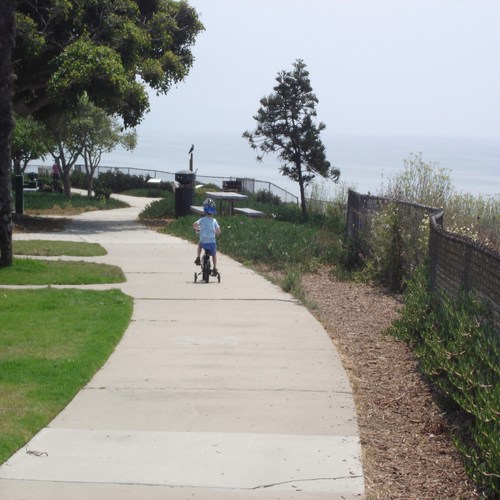 Taking a Santa Barbara bike ride when you visit just might make your trip the Most Memorable ever. Whether you're cruising the flat-sand beaches at low tide, or riding the Cabrillo Blvd. Promenade at sunset, you'll want to bring a camera along to capture the moments. Following are our Top Santa Barbara Bike Rides. As always, we provide you with : Directions, Sights along the Way, and the approximate Distance of each ride.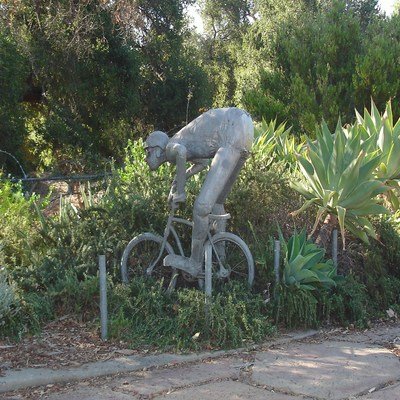 First off, did you bring a bike? If not, follow the links below for rentals: Open Air Bike Rental is on lower State Street next to the Amtrack Station.


Wheel Fun Bike Rentals is on lower State Street across the street from Sterns Wharf.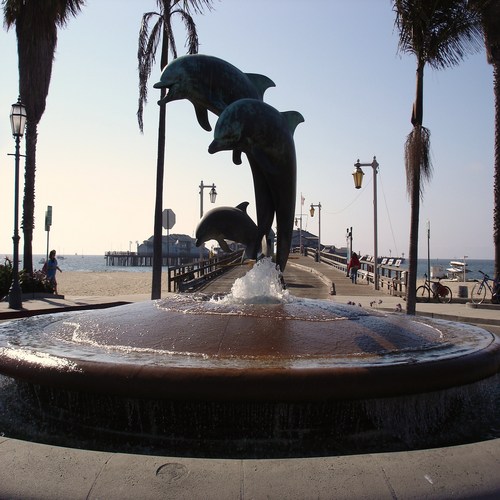 Cabrillo Beach Blvd. Bike Trail is the most popular Santa Barbara bike ride. Distance is approximately 4.5 miles long from Sterns Wharf to East Beach, then back to the Santa Barbara Harbor. A paved bike trail follows the beach along Cabrillo Blvd. Shop at Sterns Wharf and the Harbor. Bathrooms along the way, as well restaurants on Sterns Wharf, at East Beach and in Santa Barbara Harbor. Easy ride and good for kids.
Leadbetter Beach to Hendry's Beach (also called Arroyo Burro) is my favorite beach ride. First, always check the Santa Barbara Tides This Santa Barbara bike ride just north of the Harbor. Distance is appoximately 7-8 miles roundtrip. A moderate ride for a fat tire bike. 1st, check the beach for sand. Sometimes the winter and spring storms wash the sand away leaving a rocky and un-bikable beach. Mid-summer to late fall is best for lots of hard-packed bike riding sand. Bathrooms are at either end of the ride. Lots of tidepools along the way. Don't get caught on incoming tide, or you won't be able to ride around the points. There are two places where stairs lead up to the bluff, should you need to exit the beach. Local tip:. Once you get to Hendry's Beach, look north to Campus Point. If the tide's low enough, add another few miles on to your ride, or return another day and ride from Hendry's to Campus Point and back.
Stern's Wharf to Montecito Village is a favorite Santa Barbara bike ride. Begin at Sterns Wharf and ride the bike trail south to the Bird Sanctuary. Then turn up the hill adjacent to the cemetary, following the bike trail to the Biltmore and Butterfly Beach. Turn left on Olive Mill, then right on Danielson, before crossing over the 101. Danielson takes you to San Ysidro Rd. Take San Ysidro up the hill to the little village center of Montecito. This ride is a scenic coastal route with restaurants and shops at Sterns Wharf and Montecito Village. Moderate somewhat hilly ride approximately 7-8 miles roundtrip.
Sterns Wharf to Carpinteria is a 26 mile roundtrip Santa Barbara bike ride. Much of it along the frontage road of highway 101. Some hills. Stop in Summerland at the Summerland Beach Cafe for breakfast or lunch.
Stern's Wharf to Montecito Route via Route 192 is a challenging and somewhat difficult Santa Barbara bike ride about 14 miles roundtrip. This ride encompasses sections of the rides mentioned above, except it's more difficult. The first part of the ride takes you from Sterns Wharf up State Street through the heart of Santa Barbara. Restaurants and shops along the way tempt you to lock up your bike and have a look, or a bite to eat. After you pass Mission Street, turn right on Los Olivos Street. It's a steep uphill climb past Santa Barbara's Old Mission. Just past the Mission, look for Mountain Dr. to your right. The climb begins in earnest all the way up and along the foothills of Santa Barbara. There are great vistas of Santa Barbara and the Pacific Ocean, so bring your camera. The mountain road changes names several times, but keep following signs for Route 192 and you'll be fine. Once you pass through the little village of Montecito, it's downhill along a beach route back to Sterns Wharf. This is a favorite, but difficult, ride. Don't keep it a secret!
Click on "View Larger Map" link, below, for directions.
The map can be used for all of our suggested rides.



Sterns Wharf via Summerland and Montecito is a challenging ride of approximately 22 miles. Begin at the dolphin fountain at the foot of Sterns Wharf. Plan on stopping for breakfast or lunch at either the Summland Beach Cafe (just south of Ortega Hill Rd and Evans) in Summerland, or Pierre LaFond (at E Valley Rd and San Ysidro Rd) in Montecito. The ride climbs into the foothills of Santa Barbara along shady lanes. Bring your camera and plenty of water.




Return from Santa Barbara Bike Rides to Santa Barbara Daytrip Home