Santa Barbara Events: Your Monthly Guide to Festivals and Special Events
2008 Santa Barbara Events and Festivals rock! Once upon a time, SB was only known for Stern's Wharf and State Street. Not any more. Santa Barbara's Special Events and Festivals have become what many day trippers wrap their weekend around. Take Old Spanish Days, better known as La Fiesta . The city opens its doors and the streets come alive with parades and carnivals this year from July 30 to August 3rd. So take out your calendar and plan your next trip around one of the many events and festivals below...




---
Santa Barbara Events this Weekend: December 5th-7th
Friday,December 5th, 6-9 pm come join Santa Barbara for the Holiday Parade. Park three hours FREE in the city parking garages. Go to lower State Street and mingle with 40,000 celebrants. Make sure and wear your Santa Hats.
---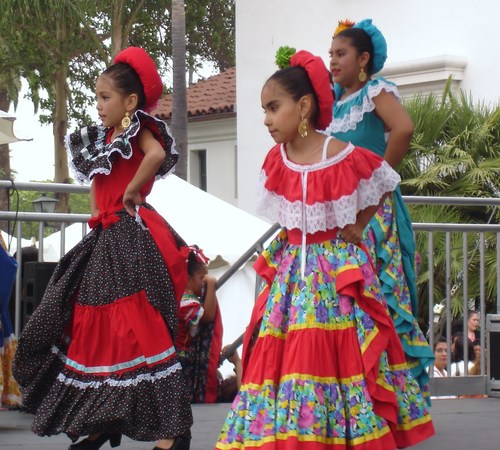 Events for 2008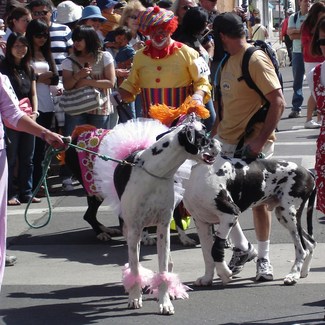 If you don't see your event here, check-back soon. We add events as we find them.
June
Big Dog Parade, June 7th, see over 1,200 costumed dogs in the parade that begins at the corner of State and De la Guerra at 9:30 am. Then at 10:30 am, a Big Dog festival will follow at Chase Palm Park on Cabrillo Blvd. Enjoy live music, food booths, children's activities and contests. If you wish to be in the parade, register at 8am in De la Guerra Plaza. $15 per dog, includes a t-shirt. Proceeds go to benefit the Big Dog Foundation. Directions: Exit 101 at Carrillo. Drive towards the mountains, turn right on Chapala, then park in the underground parking garage at Paseo Nuevo to your left.
Santa Barbara Writers Conference June 21-26 at the Fess Parker Double Tree Resort on the beach. One of the best writers conferences in the country. A great list of speakers this year, including Ray Bradbury, Joseph Wambaugh and Sue Grafton. Tune-up your writing in one of dozens of workshops and lectures.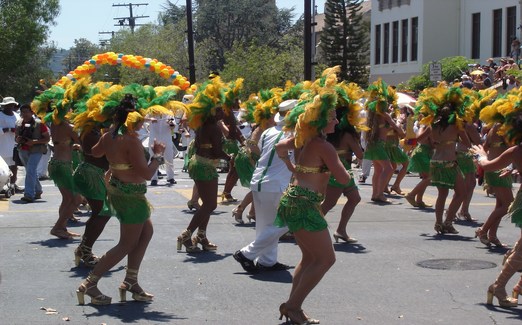 Summer Solstice Parade is one of Santa Barbara's zaniest events going on Saturday, June 21st, the longest day of the 2008. This year's theme was "Solar Flair," fitting for a summer when gas prices will likely exceed $5 bucks a gallon. The parade, which starts at Cota and State Streets, begins at noon, on Saturday, when tens of thousands of spectators watch over 1,000 crazy dancers and participants flash their costumes and propel their floats up State Street. After the parade,the celebration continues back at Alameda Park with food booths, live music, arts, crafts and activities for the kids. Directions: exit 101 at Carillo and look for available parking where you can find it. Realize many will "park" their blanket and lawn chairs along the parade route on State Street early Saturday morning, or even the night before. Get to SB early if you want a good spot. Local tip: exit 101 at Cabrillo Blvd. and park along the beach. Then take the electric shuttle for a quarter (that's right, $.25!). It departs from Stern's Wharf and goes straight up State Street to the parade route. More on this Santa Barbara Event.


Santa Barbara Wine Festival is on Saturday, June 28th. Come taste Santa Barbara County's best wines at the Natural History Museum. Taste wines from any of the more than 50 Central Coast wineries represented at the festival. Great food will be provided by local chefs. These culinary artists will do live demonstrations as you sip and dance to the live music. Wine tasting is from 2pm to 5 pm. $50 for museum members and $75 for non-members. If you're a designated driver, you get in for free!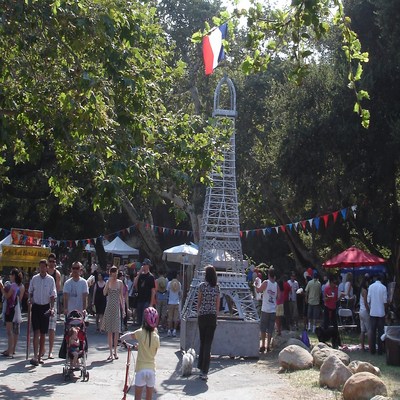 July
Friday, July 4th get out your flags and Uncle Sam hats! The Independence Day Parade begins at 1 pm from the corner of Micheltorena and State Streets. The parade travels south on State towards the ocean.
Local tip: The 4th of July in Santa Barbara is a good time to visit the new Reagan Ranch Center located at 217 State Street next to the train station. The Center will be open from 9am to 5 pm on Friday.



Pacific Pride Festival, Saturday, July 12th at Chase Palm Park.



French Festival, Saturday and Sunday, July 12th and 13th at Oak Park. Santa Barbara events don't get more liguistically beautiful than the French Festival in Santa Barbara's beautiful Oak Park. The festival is free. Great French food and drink booths. Activities for the kids, live music and dancing. Enter the drawing for a trip to France. Keep your ears open and strike up a conversation in French if you can. It's surprising how many French speaking people live in Santa Barbara. Directions: Exit 101 northbound at Pueblo, turn right at the first stop sign onto W. Junipero. Park anywhere along the street. Oak Park is to your left. Local Tip: The Greek Festival will be at Oak Park on July 26th.
July 2-July 13th- 71st Annual Summer Sports Festival, Semana Nautica. Come watch and participate in ocean swims, beach runs, beach volleyball and sailboat racing.
The California Wine Festival at Chase Palm Park on Friday and Saturday, July 18-19. Promises to be a wonderful venue for wine tasting and Blues music. Buy your tickets for this Santa Barbara event in advance for $60, otherwise $75 at the gate. The festival boasts "unlimited" wine sampling, along with gourmet food booths, lots of raffles and a silent auction with proceeds going to the Santa Barbara County Food Bank. 400+ wine and craft brews. VIP Event on Friday, July 18th, 6:30 pm: Spectacular Sunset wine tasting at the vintage carousel. 805-223-1880.


Greek Festival, Saturday and Sunday, July 26-27th in Oak Park. Of all the Santa Barbara events, you have to love Greek festival's food, wine and crazy dancing. Drawings for trips, arts and crafts as well as plenty of things for the kids to do.
August
La Fiesta, or Old Spanish Days is the biggest of Santa Barbara events all summer. July 30-August 3rd, 2008. Fiesta is a great time to visit Santa Barbara. Our favorites are the parades and the Spanish dancing. From seven to seventy, the art of Flamenco and Spanish dancing is a passion for many gals in SB. Year-long planning culminates in California's biggest celebration of Spanish heritage. Completely unpretentious and sprinkled with Santa Barbara charm, La Fiesta is a must see.
August 8th-10th, 2008 Tall Ship Festival. Walk aboard the many vessels that harken back to the Ancient Mariners of the 18th and 19th centuries. You can go cruising aboard several of the ships, watch sea battle reenactments and stroll the docks of beautiful Channel Island Harbor.
Directions: take the US-101 South to Ventura and exit at the Seaward off ramp. Turn left onto East Harbor Boulevard, follow Harbor Boulevard for approximately 4-5 miles until you reach the Channel Islands Harbor, on the corner of Harbor Boulevard and Channel Islands Boulevard. Follow the signs to the festival.
Woodies at the Beach, August 16-17th. Don't forget your camera, because the Santa Barbara Woodie Club's Annual car show is a photog's favorite of all Santa Barbara Events. Expect to see Woodies cruising the beach and State Street on Friday. Find music, food and an awesome display of these classic surf vehicles. If you liked the Beach Boys and always wished you could ride along with them to Surf City, here's your chance. The show begins at 9 am Saturday morning at Santa Barbara City College. Directions: Exit northbound 101 at Castillo, or Bath St. if you're southbound. Follow signs to the harbor. Head up Shoreline Dr. to Loma Alta, turn right into the entrance to Santa Barbara City College.
2008 Santa Barbara Triathlon at East Beach Come early and sip coffee at East Beach while you watch California's best triathletes swim 1 mile, bike 34 miles and run 10 miles to the finish.
Santa Barbara Fall Events September thru December

Click here if you would like to return from Santa Barbara events to Santa Barbara day trips