California Beach Guide for Beaches North of Santa Barbara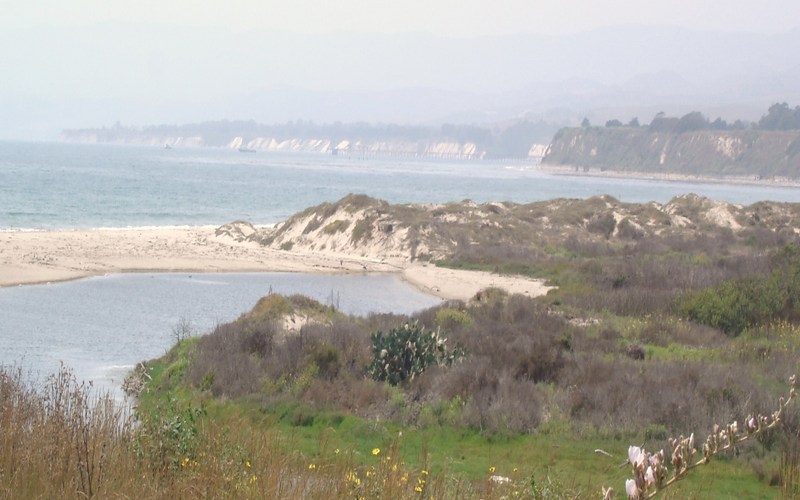 If you explore a California beach north of Santa Barbara, expect to find the water a bit cooler and the coastline more dramatic. You get the feeling you're leaving the broad sandy beaches of So Cal and entering the Central Coast where you see rocky outcroppings, lots of kelp and an abundance of marine mammals.
Bring along your beach gear as well as your hiking shoes. Here find our favorite California beach hikes, bike rides and beach activities. As always, we'll give you driving directions, info on parking and amenities, as well as what activities to enjoy. Come on, let's go!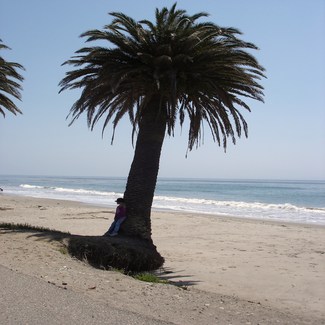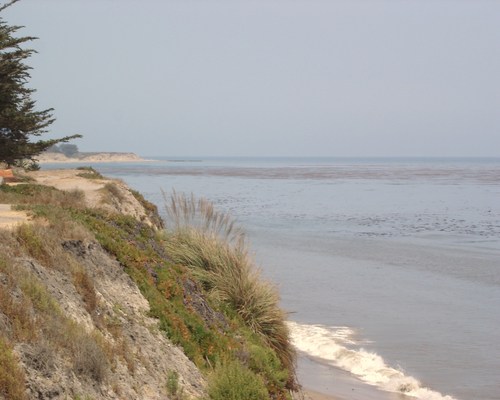 Goleta Beach to Campus Point- Exit 101 at Hwy. 217 and drive towards UCSB and the ocean. Exit again before you get to UCSB and follow the Goleta Beach County Park signs. There's free parking next to the Goleta Pier. Amenities include bathrooms, restaurant, picnic area and playground. Look north to Campus Point. Good surfing and boogie boarding at Campus Point, especially in spring and winter. If you park on campus, you must pay for parking. Make sure to only use visitor parking. Parking lots are monitered 356 days a year 24/7. Great tidepooling at this California beach. Expect to be joined by every UCSB student with a board if there's surf.
More info on Santa Barbara Surf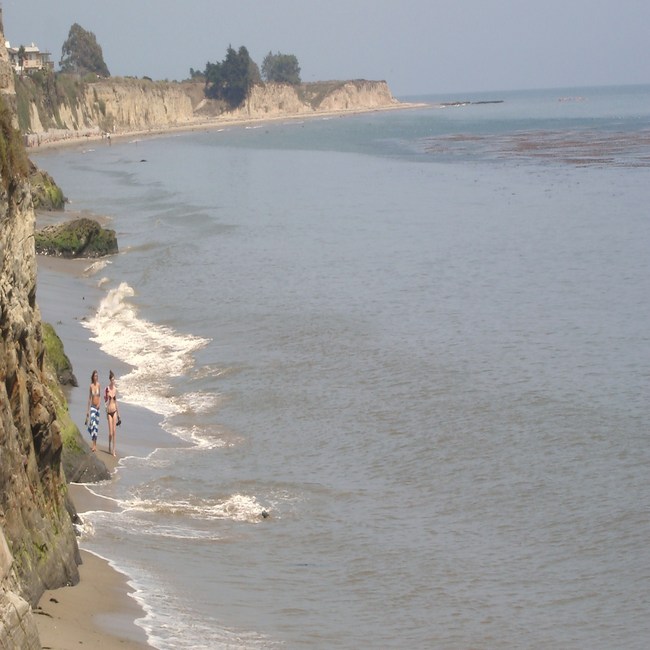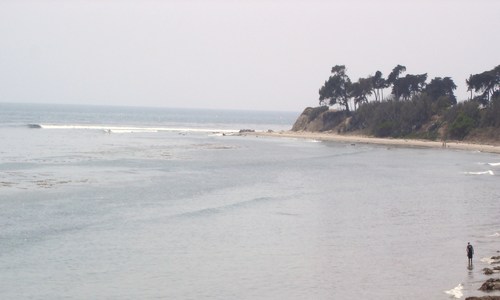 Coal Oil Point to Haskell's to Naples: Exit 101 at Storke Road. Drive towards the ocean, pass the Home Depot on your right. Turn left on El Colegio Rd, then right on Camino Corto to ocean, right on Sabado Tarde. Drive about three blocks to the beach access and park along the street. Stairs lead to your left down to the beach, walk north to Coal Oil Point. Good surf in fall and winter. Careful of submerged rocks at the point. This California beach had the name of Devereaux, a private mental health facility, which owned the buildings on the bluff for years. No amentities.
If you hike north around Coal Oil Point, you'll find a California beach called Sands. Surf breaks over a series of sand bars. Works best on a local wind swell. Open, often deserted beach follows north from Sands to Haskell's. If you'd rather drive, exit 101 at Winchester Canyon, turn left over freeway and follow directions to Sandpiper Golf Course. Follow frontage road and then left into public beach access parking lot at the Bacara Resort. A trail leads to the California beach called Haskell's. Amenities include bathrooms and showers. Walk north at low tide to Naples Point. Good surf during winter, but a long walk. If you hike north, be careful of the incoming tide. Most private property owners on the bluffs above Naples employ security guards and don't take kindly to trespassers. Local tip: Awesome winter surf at Naples. You just need to find a way to get there.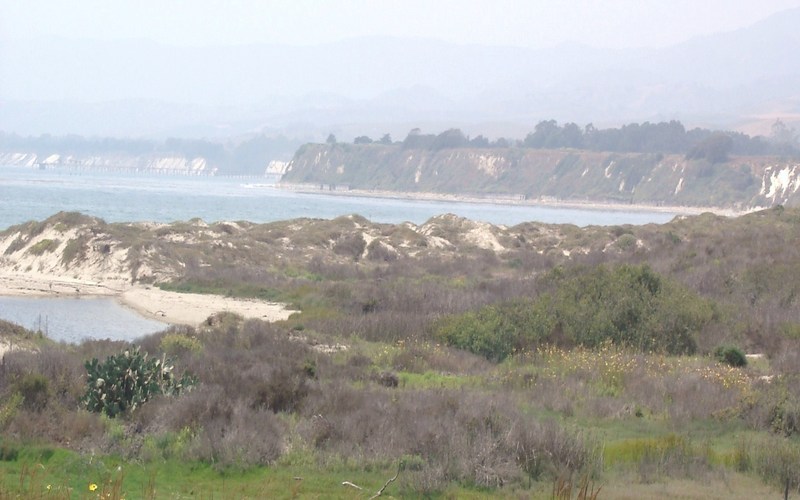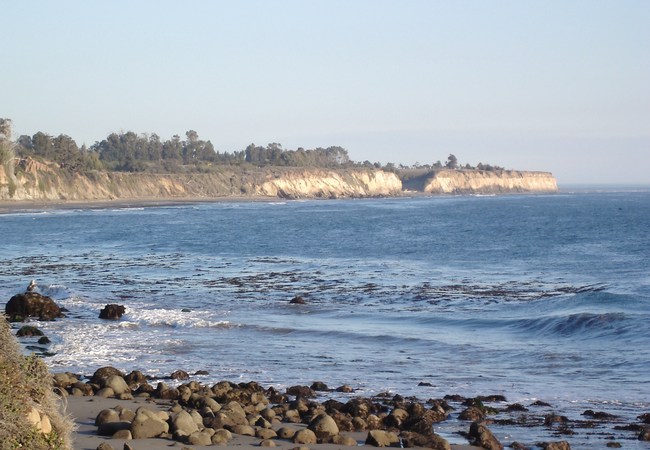 Naples Point from El Capitan State Beach


El Capitan State Beach to Gaviota-Exit 101 a few miles north of Winchester Canyon for El Cap or Refugio State Beaches. See El Cap, Refugio and Gaviota State Beach info on the link below.
California Beach and Camping Guide for El Cap, Refugio and Gaviota Stae Beaches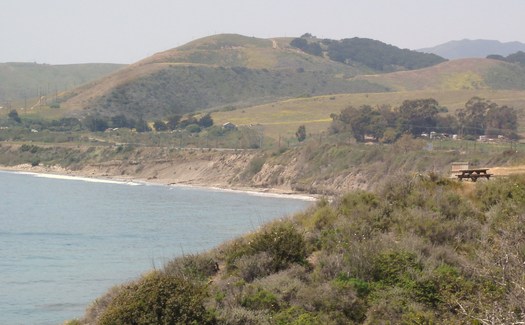 Hollister Ranch- Exit 101 at Gaviota State Beach. If you are a parcel owner, or plan to boat in to Hollister Ranch, email me and let's go surfing! Otherwise, some of the best surf breaks in California are on private land.
Bixsby Ranch- My friend Mark, God rest his soul, was a Bixsby Ranch security guard. Mark paddled for his last wave and took his last breath at Jalama Beach in September 2003.
Jalama County Beach- Jalama Beach is a must see if you're wandering the California beach scene. Jalama has some of the best surf and most remote beach camping in California.
More info on Jalama Beach


Vandenberg Air Base Beach- Federal Government launches rockets from here. Stay clear!
Oceano State Beach- Drive to Pismo Beach, bring your motorcycles, 4-wheelers and beach buggies. This is the wild west of beach camping. If you like four-wheeeling, this is your beach....

More info on Oceano Dunes State Beach