Santa Barbara Beach Information and Activities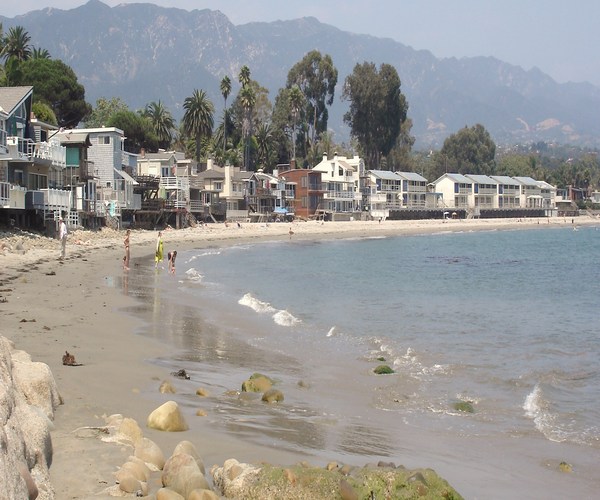 Miramar Beach- Exit 101 and park at the end of San Ysidro Road. This Santa Barbara beach has no shops or bathrooms nearby. Surf the small point break. Walk south and notice the current wreck that is the old Miramar Hotel. Rick Caruso, real estate developer, who created The Grove at Farmers Market in Los Angeles owns the property. Return in a year or two, likely Caruso will develop something extremely nice complete with restaurants and shopping. We highly recommend a daytrip to Los Angeles to experience The Grove at the Farmers Market as well as the new Americana at Brand in Glendale. Walk south to Fernald Point, traditionally called Sharks by local surfers. The point rarely breaks and can't say it's worth the walk.
From San Ysidro, follow the trail north to Hammonds reef. Great snorkeling in the summertime. Otherwise, good winter surf over the reef on a direct west swell.
Hammonds Beach- Surf the reef in winter. Lots of cool driftwood and beach combing here. More surf info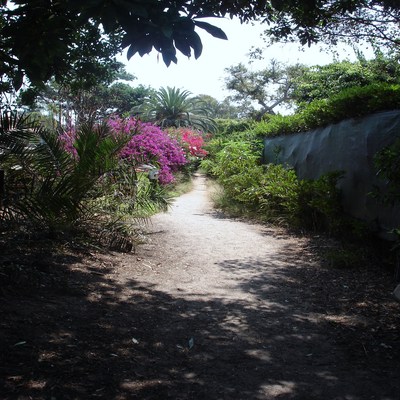 Once Chumash Indians picked-up abalone and lobster from Hammond's reef. Try to find the monument at Hammonds to the Native Americans.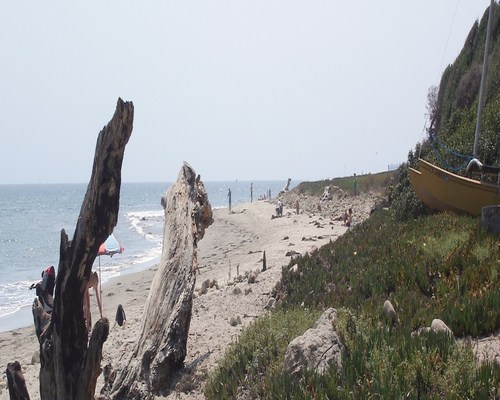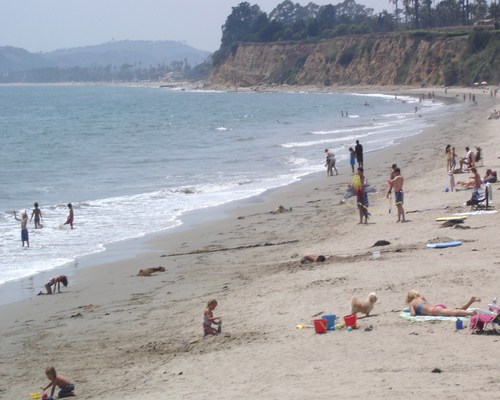 Butterfly Beach- To discover this Santa Barbara beach, exit 101 at Olive Mill and drive towards the ocean. Butterfly beach is across the street from the Biltmore. No bathrooms, or shops nearby. Steps lead down to the sand. Park anywhere along the street. Nice family beach, as it's steps from your car and makes hauling your beach gear to the sand easy. Ty Warner of Beanie Baby fame owns both the Biltmore and the Coral Casino across the street. His success and ownership of the nicest properties in Montecito seem to upset the locals.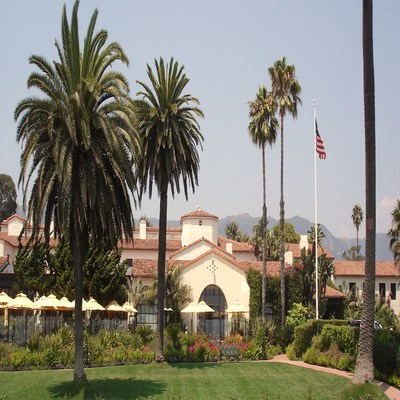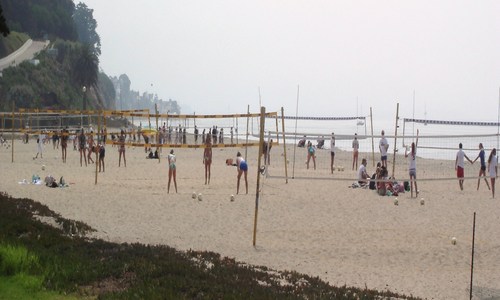 East Beach- Exit 101 at Cabrillo Blvd. Volleyball courts, bathrooms and East Beach Grill for breakfast and lunch. Park along street or in the city lot. Here begins an approximately two mile swath of a clean beach Santa Barbara beach for sunbathing, running and beach play north to the harbor.
Stern's Wharf /West Beach- Probably the most popular Santa Barbara beach. Park anywhere along Cabrillo Blvd. or in the city lots at Garden Street and Cabrillo. Room to spread out. Bathrooms about every quarter mile along this stretch. Food and shops on Stern's Wharf. Good beach for a run at low tide. No surf to speak of, except for the mysterious west swell that breaks once or twice each winter at the famous sandspit in Santa Barbara Harbor. Our local fleet of famous Santa Barbara Seashells and Sabots sail here.
Leadbetter Beach-Across the street from Santa Barbara City College. Bathrooms and parking. Enjoy food and drinks at Shoreline Cafe one of our favorite Santa Barbara Restaurants Stand-up surfers and longboards frequent the mushy peak at this Santa Barbara beach. Often crowded, suggest surfing the reefs north of Leadbetter below Shoreline Park. Local tip: at low tide, one can ride a fat-tired bike all the way north to Campus Point.
Shoreline Park Beach- Great tidepooling. Park in the free lots at either end. Bathrooms, playground, but no nearby shops. South parking lot, steps lead down to beach. Good beach for hiking, running and walking. Swimming not recommended at this Santa Barbara beach as there are many submerged and sharp rocks as well as lots of kelp.
Lighthouse Point- Follow Shoreline Ave. north past Shoreline Park, turn left on Santa Cruz Blvd. Parking is scarce. Carefully walk down the "Thousand Steps" as locals call this Santa Barbara beach. The old beach passageway is covered in slick moss during the rainy season. A rarely surfed reef lies a bit south of the steps. Kelp is thick and it's rocky. Be careful. We don't recommend swimming here. Enjoy the walks at low tide in either direction.
Hendry's Beach- At the end of Los Positas Rd. turn right and then left into the parking lot. The Brown Pelican Restaurant (on the sand at Hendry's) used to be one of our favorites. A new restaurant will be in its place soon. Hendry's is famous for dog lovers. No leash to the left and with leashes to the right. Parking and bathrooms available, but currently no shops or food. Again a local tip: at low tide take your mountain bike, or any fat-tired bike for a wonderful beach cruise. Ride south to Leadbetter, or north to Campus Point. Santa Barbara Beach Surf and Tides Report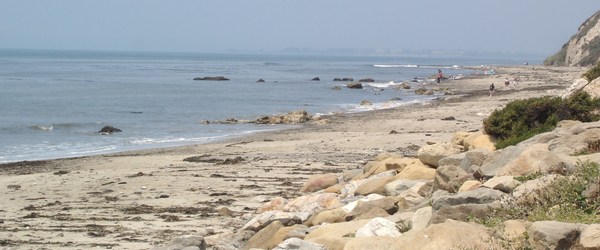 Hope Ranch Beach- From Hendry's, walk north towards the UCSB campus. The very private, Hope Ranch, lies above on the bluffs. Access is limited, so watch the tides. Once you see the private Hope Ranch beach deck, you've arrived. Careful for millionaire local, Wendy McCaw. She owns the Santa Barbara News Press. Wendy lost her case in court to privatize part of the beach below her 25 acre Hope Ranch estate. Thanks to the California Coastal Commission, this Santa Barbara beach remains open to the public....




Return from Santa Barbara Beach to Santa Barbaradaytrip Home